Facial Set (glō Signature Facial)
Regular price

$ 174.00

Sale price

$ 450.00
This luxurious facial gift set includes our signature facial oils to cleanse and hydrate along with gentle face masks and nourishing hydrosols. All products are made from natural and organic ingredients directly sourced from farms around the world. Each facial will leave you relaxed and radiant with  beautiful, clear skin.
Each (super cute) travel bag consists of enough product to perform three facials with plenty of extra facial oils and hydrosols to experience luxurious radiance over and over again (approximately 12 servings each).
This is the perfect skincare gift for anyone who:
travels frequently
needs to level up their self-care ritual
wants to explore glō Luxury Oil
wishes to create the Signature glō Facial at home
simply cannot decide which products to invest in
Included is a step by-step guide on the Signature glō Facial, plus product brochures for details on individual products.
Just think, we often pay $150 for a spa facial, why not get 3 facials for the price of one? Or purchase the full sized set for the price of 2 facials and you're set for months!
This facial set includes:
Description

Blemish Free Hydrosol/Toner: This is a hydrosol of filtered water, aloe vera and essential oils designed to be used throughout the day. The ingredients combined offer gentle anti microbial/bacterial/fungal, anti inflammatory and antiseptic qualities. This formula is designed for healing and calming the skin while supporting the regeneration of healthy new cells. This hydrosol is especially beneficial when used after workouts and to activate your Face Polish or Detox Mask. Simply mist face, décolletage and nape of neck. Use throughout the day as a refreshing mist! Also use it to alleviate skin rashes, insect bites, eczema and sunburn or simply to set your make up!

Cleansing Oil: This luxurious makeup remover is made from organic & cold pressed, sustainably harvested oils that naturally and effectively remove impurities from your skin. High quality oil cleansers lift makeup and dirt from the skin without stripping it of its natural sebum (oil). Cold pressed pumpkin seed oil is a rich source of Omega fatty acids to nourish the skin along with minerals like Zinc and Selenium which enable the skin to regenerate healthy new cells. Cold Pressed Apricot kernel oil is a great source of vitamin A & C to protect delicate skin cells from scarring and environmental toxin exposure. Expeller Pressed Sunflower Seed Oil is a light oil rich in Omegas and linolenic acid to protect and nourish the skin cells without clogging pores. All of these oils are non comedogenic and are enhanced with antimicrobial and cellular regenerative essential oils of Neroli, Geranium & Sweet Orange which were steam distilled or cold pressed and harvested sustainably with Fair trade practices. These oils are ideal for oily, sensitive and aging skin.

Face Polish: Begin your routine with our nourishing organic Face Polish to gently dissolve and remove surface layers of dead skin and reveal fresh radiance. Not your typical exfoliator (no need to scrub), the Gentle Face Polish releases impurities and dead skin so that the vitamin rich and rejuvenating molecules in your glō products can be absorbed directly into your skin.

Detox Mask: Take your glo to the next level with this super mask! It pulls out impurities, exfoliates, and remineralizes your skin. Combine this anti oxidant rich combination of charcoal, clays and Matcha tea with Blemish Free Hydrosol or water to create an effective yet gentle mask.

Regenerative Hydrosol/Toner: Regenerative Hydrosol is derived from the organic essential oils of rose (rose damascena) and geranium along with gem infused filtered water. The gems used to infuse the water are rose quartz, quartz, amethyst and black Tourmaline. Infusing water with precious gems from the earth energetically raises the vibration of the hydrosol. Gem infused waters assist in absorption of minerals and healing properties from the essential oils and filtered water. Rose and Geranium are known for their antibacterial and cellular regenerative properties. Historically, rose and geranium have been used as aphrodisiacs and antidepressants and this combined with the gem infused water offers a wonderful boost to mood and energy when used throughout the day. Regenerative Hydrosol allows your skin to stay hydrated and glowing throughout the day as you can mist your face multiple times in a day. I have been known to keep a bottle on my office desk and powder room counter! It is considered an essential beauty tonic for most glo customers!

Moisture Mask: Formulated from 100% organic and raw ingredients, it exfoliates a dull complexion while enhancing the pigment and texture of the skin thanks to naturally derived alpha hydroxy and glycolic acids, vitamins A and E, Omega-rich oils, Astaxanthin and healing extracts from aloe vera and willow bark. Our Moisture Mask is better known as a spa treatment in a jar due to its pampering feel, botanical scent and positive end results.

Regenerative Oil: This luxurious oil is made from organic, cold pressed Camelina oil locally sourced from Bozeman, MT. Sustainably sourced, organic and steam distilled oils are combined for softening the appearance of sun damaged, aging, dry or sensitive skin. Its calming and cell regenerative qualities are due to the high amounts of anti oxidants: vitamins A & C naturally derived from Sea Buckthorn, carrot seed and Rose Damascene oil.

Eye & Night Repair Oil: This is a wonderful emollient rich oil with high amounts of bioflavanoids to protect skin against cell damaging free radicals from the sun, environment and diet. The combination of 11 therapeutic grade essential oils works well for repairing the skin from sun and wind damage, increasing collagen and elasticity and minimizing pores. Pomegranate seed oil is the oil from the super fruit that is loaded with antioxidants which help to fade fine lines and wrinkles while brightening overall skin tone. It won't clog your pores, so it's also ideal for blemish prone skin.
Ingredients

Blemish Free Hydrosol/Toner: Lavender, Juniper, Roman Chamomile, Lemongrass, Helichrysum, Essential oil of Carrot Seed, 100% Aloe Gel, filtered water

Cleansing Oil: 100% organic: Sunflower seed oil, Pumpkin Seed Oil, Apricot Kernel Oil, Neroli, Sweet Orange, Rose Geranium

Face Polish: Organic Rose Hip (ground), Raspberry Seed Powder, Ghost Town Green Coffee Beans, Moringa Powder, White Willow Bark Powder, Aspen Bark Extract, Aloe Vera Powder, Vitamin B3, Bromelain (pineapple enzyme), Pomegranate Enzymes, Essential Oil of Sweet Orange

Detox Mask: French Green Clay, Matcha Green Tea, Bentonite Clay, and Bamboo Charcoal

Regenerative Hydrosol/Toner: Filtered water infused with gems, the organic essential oils of rose damascena and geranium.

Moisture Mask: Raw Shea Nut butter, mango seed butter, aloe vera, willow bark, red sea algae (Astaxanthin), Raw Honey (from our very own glo bees)

Regenerative Oil: 100% Organic Sunflower seed oil, camelina oil, Sea buckthorn oil, carrot seed and Rose Damascena oil.

Eye & Night Repair Oil: 100% Organic Pomegranate seed oil, Sunflower seed oil, vitamin E oil, Cranberry seed oil, lavender, rose, neroli, jasmine, helichrysum, palma rosa, chamomile
Directions

Blemish Free Hydrosol/Toner: Spray liberally before and after applying your favorite glo oil. Mist face throughout the day to increase the cellular regenerative benefits and lift your mood. Use to set makeup or as a toner.

Cleansing Oil: Add to Face Polish or simply massage a dropper full of oil into skin. Breathe in the scent and gently wipe away debris with a warm, wet wash cloth. Follow with a mist of Regenerative Hydrosol.

Face Polish: ADD 1tsp cleansing oil to 1 tsp of polish in a bowl. Mix with your mask brush and apply to entire face. Allow to sit for 5 minutes. Rinse by gently wiping your face with a warm wet wash cloth. Follow with a mist of Blemish Free Hydrosol

Detox Mask: Add 1 tsp of Detox Mask to a bowl. Add 10 pumps of Blemish Free Hydrosol to mask + enough warm water for a spreadable consistency. Apply to face and allow to sit until it dries. As soon as it dries, Gently remove with a warm wet wash cloth.

Moisture Mask: Apply a pea sized amount to clean face and massage into your skin. (it will harden with cooler temps. you may have to warm between your fingers first. It will soften as you massage into your warm skin)Allow to soak into your skin for minimum 15 minutes up to hours (as time allows!) Gently remove with a warm, wet wash cloth.

Regenerative Oil: Apply 5-10 drops to clean face and massage into skin. Follow with Regenerative Hydrosol

Eye & Night Repair Oil: Apply 1-2 drops above cheek bones and around (but not too close) the eyes..smile lines and just under the eye brows. Use nightly on entire face to replace your night cream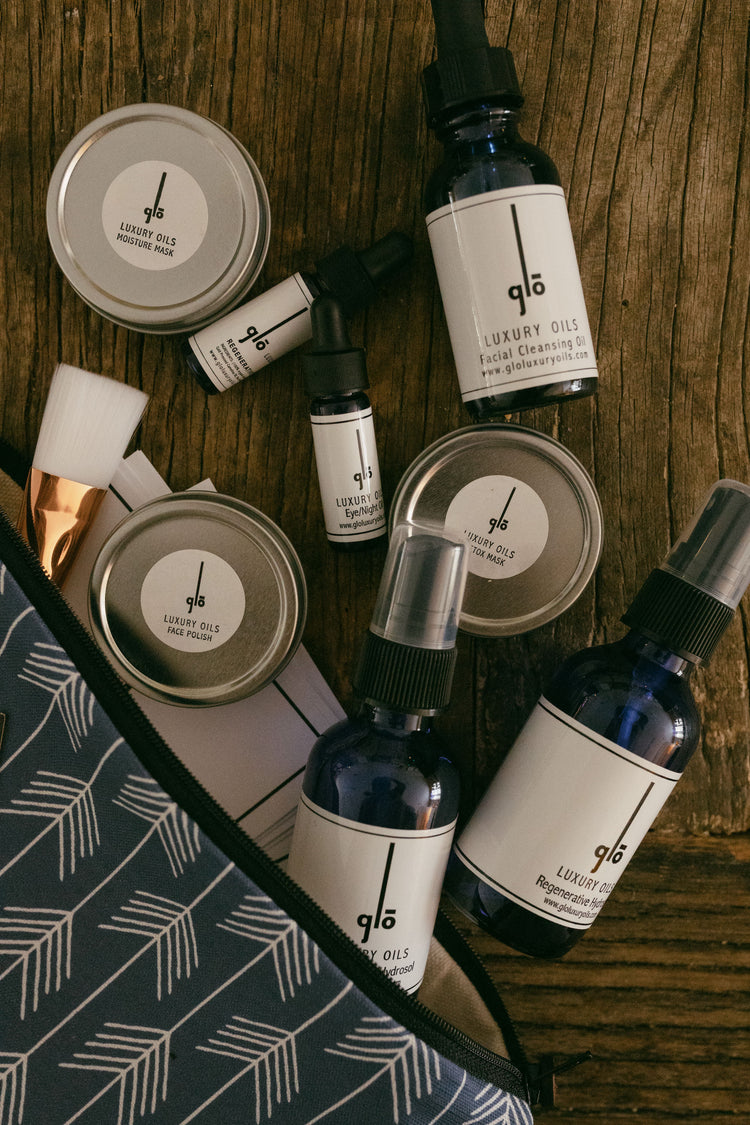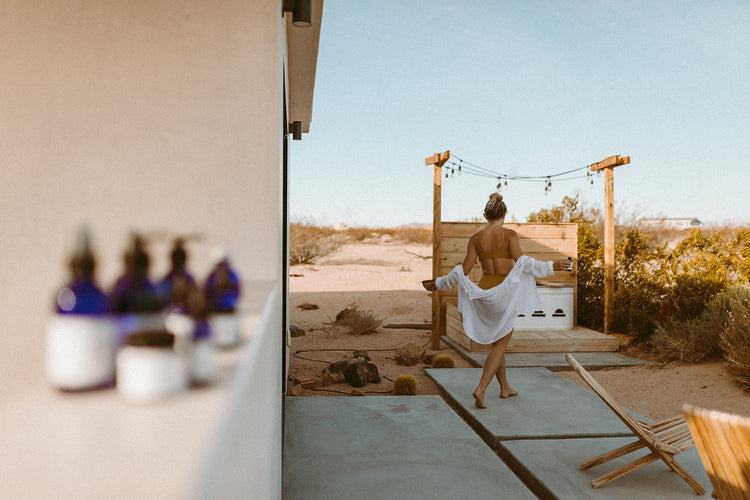 Guarantees
Ethically Sourced
Each ingredient is sourced directly from growers who support fair wages or fair trade.
Organic
All ingredients are either certified organic, or from farms who grow with organic practices as stewards of the land.
Eco-Friendly
All of our product packaging is recyclable, and our shipping materials are made out of recycled materials, reusable, and compostable.