Acne Prone/Hormonal Breakouts Skincare Set
Regular price

$ 260.00

Sale price

$ 248.00
Made for skin prone to breakouts, this Acne Skincare Set was crafted for anyone experiencing blemishes or hormonal acne. This skincare routine provides your face with the gentle exfoliation, cleansing oils, blemish-free hydration, and nutrients necessary to treat and prevent breakouts.
This luxurious skincare set comes in a cute handcrafted bag made by 2nd Story Studios in Bozeman, MT - fabric prints may vary.
Set includes: Face Polish (4 oz jar), Facial Cleansing Oil (4 oz bottle), Detox Face Mask (4 oz jar), Blemish Free Oil (1 oz bottle), and the Blemish Free Hydrosol (4 oz bottle)
Description

Face Polish (4 oz jar)

Begin your routine with our nourishing organic Face Polish to gently dissolve and remove surface layers of dead skin to reveal fresh radiance. Not your typical exfoliator, the Gentle Face Polish releases impurities and dead skin so that the vitamin rich and rejuvenating molecules in your glō products can be absorbed directly into your skin.

Cleansing Oil (4 oz bottle)

This luxurious makeup remover is made from organic & cold pressed, sustainably harvested oils that naturally and effectively remove impurities from your skin. High quality oil cleansers lift makeup and dirt from the skin without stripping it of its natural sebum (oil). Cold pressed pumpkin seed oil is a rich source of Omega fatty acids to nourish the skin along with minerals like Zinc and Selenium which enable the skin to regenerate healthy new cells.

Detox Mask (4 oz jar)

The French green clay and Bamboo charcoal draws out impurities, gently exfoliates, and remineralizes your skin, leaving you with smaller pores and a smoother complexion. Combine this anti oxidant rich combination of clay and Matcha tea with our glō Cleansing Oil and your favorite glō hydrosol to create an effective yet gentle at-home spa treatment.

Blemish Free Oil (1 oz bottle)

While using oil on oily skin seems counter intuitive, this combination of oils is non clogging and contains astringent qualities to fight bacteria and maintain clear pores. The essential oils used in this product have anti microbial/ bacterial and anti fungal properties combined to restore skin to a clear and supple state. There are also anti inflammatory qualities in these oils to soothe irritated skin.

Blemish Free Hydrosol (4 oz bottle)

Mist your way to calm, clear skin! This hydrosol is formulated with aloe, filtered water and essential oils to fight bacteria and calm irritated skin. Whether you are fighting acne, calming rashes or simply need protection from bacteria (think sweat and mask wearing for a prolonged time) this hydrosol does it all. The ingredients are combined specifically to combat breakouts and quiet inflammation. It also makes a great skin cleanser when water is not available (camping or immediately post workouts) by dampening a cotton cloth with the hydrosol and wiping bacteria off of skin.
Ingredients

Face Polish: Organic Rose Hip (ground), Raspberry Seed Powder, Ghost Town Green Coffee Beans, Moringa Powder, White Willow Bark Powder, Aspen Bark Extract, Aloe Vera Powder, Vitamin B3, Bromelain (pineapple enzyme), Pomegranate Enzymes, Essential Oil of Sweet Orange

Detox Mask: French Green Clay, Moringa, Matcha Green Tea, Bentonite Clay, Bamboo Charcoal

Blemish Free Oil: Montana grown cold pressed organic Camelina oil, Sunflower seed oil, Cranberry seed oil, Sea Buckthorn oil and essential oils of: lavender (Washington grown), Juniper, (Oregon grown) Neroli, Frankincense, Chamomile (Washington grown), Geranium (Washington grown), Melaleuca

Blemish Free Hydrosol: Filtered water, Aloe, EO: Lavender, Juniper, Roman Chamomile, lemongrass, Helichrysum, Carrot seed
Directions

Face Polish: Simply add a small amount (dime size) of Face Polish to palm of hand. Add glō cleansing oil or your favorite gentle cleanser (dime size) to polish in hand and gently apply to your face, neck and chest (may need more of each when including the chest area). Rinse until all polish disappears and be prepared for amazement at how soft your skin feels! Recommended use 2-3 times per week. Gentle enough to use daily as a facial cleanser.

Cleansing Oil: Have a wash cloth on hand and warm/hot water. Wet face with warm water and apply a dime or nickel sized amount of cleansing oil onto hand. Using finger tips massage Cleansing Oil into face in an upward motion. It will become milky white as the water and oil are combined. Place hot wash cloth over face and press into skin until it cools. Gently wipe impurities off of face. Repeat wiping gently until impurities disappear.

Detox Mask: Add 1-2 tsp of glo Cleansing Oil or Blemish Free Hydrosol to 1/2 TBSP of detox mask. Mix well, adding more clay or oil to desired consistency. Apply to face and neck. Allow to sit for 5-10 minutes. Rinse with warm water and enjoy the glo! If your skin is in the midst of a break out, try combining the Detox Mask powder with water, 5 pumps of Blemish Free Hydrosol and raw organic honey to draw out black heads and calm irritation. Allow to sit on your face, neck and or upper back area until dry (approx 15 minutes). Rinse in shower or with warm wash cloth and apply the Acne Prone Oil and Blemish Free hydrosol for added protection.

Blemish Free Oil: Applied morning and night, 2-3 drops of this blend of oils is perfect for those seeking to prevent or eliminate acne. It is non drying and non comedegenic, making it a wonderful choice for sensitive skin as well.

Blemish Free Hydrosol: Mist face before and or after applying your favorite glō oil. Mist face and mask before wearing mask for extended hours. Mist face pre and post workout to avoid break outs. Mist over eczema or rashes to calm the skin.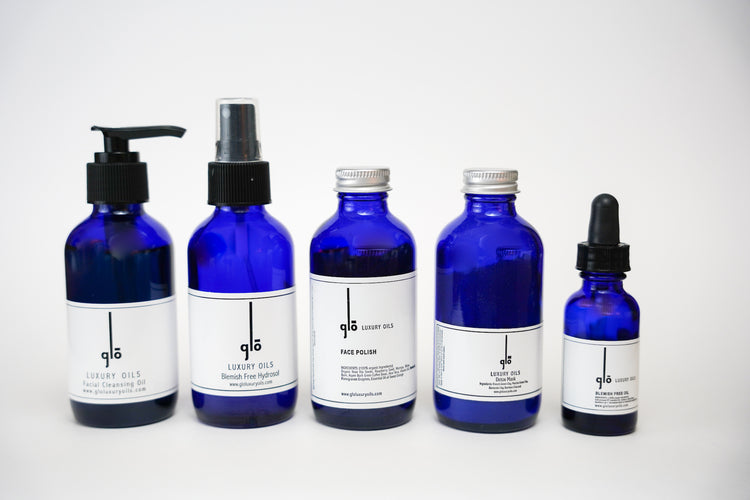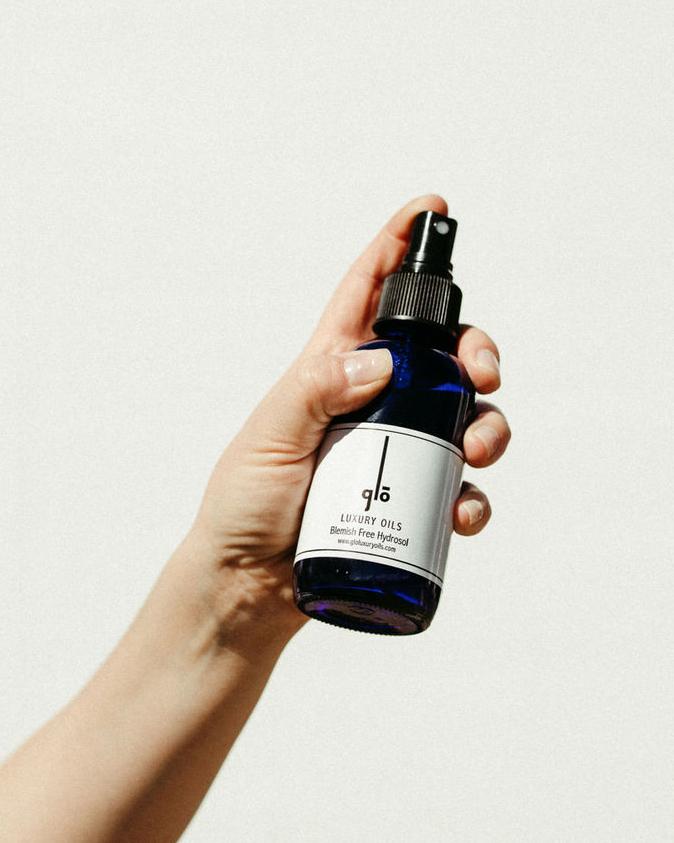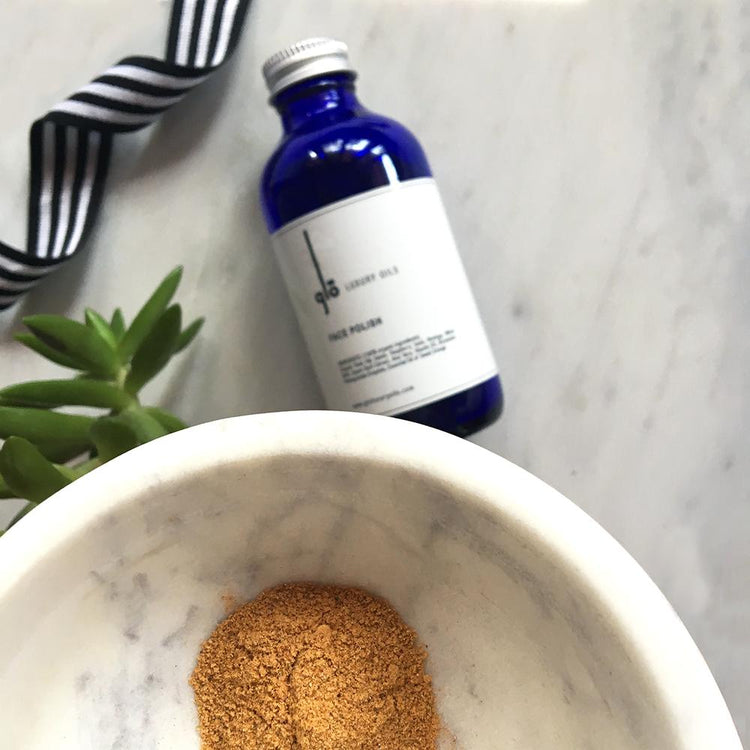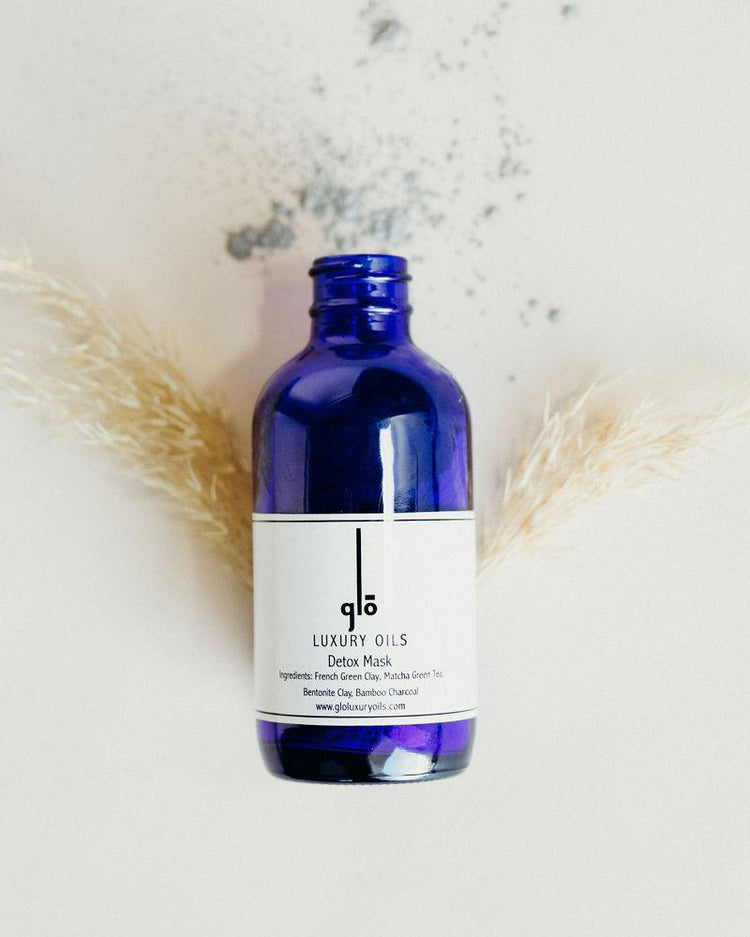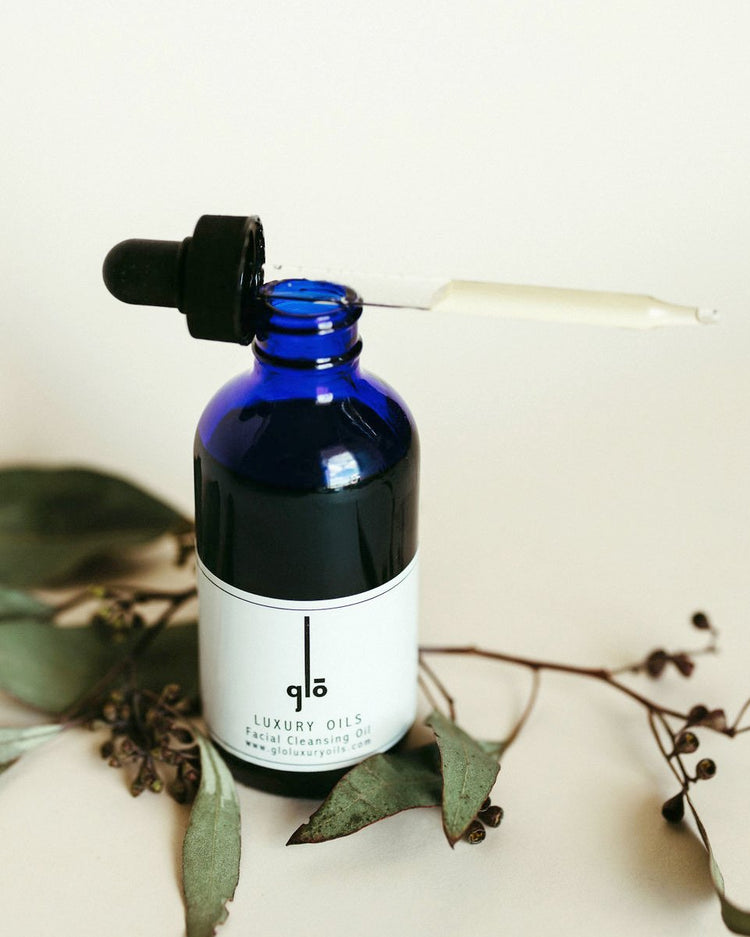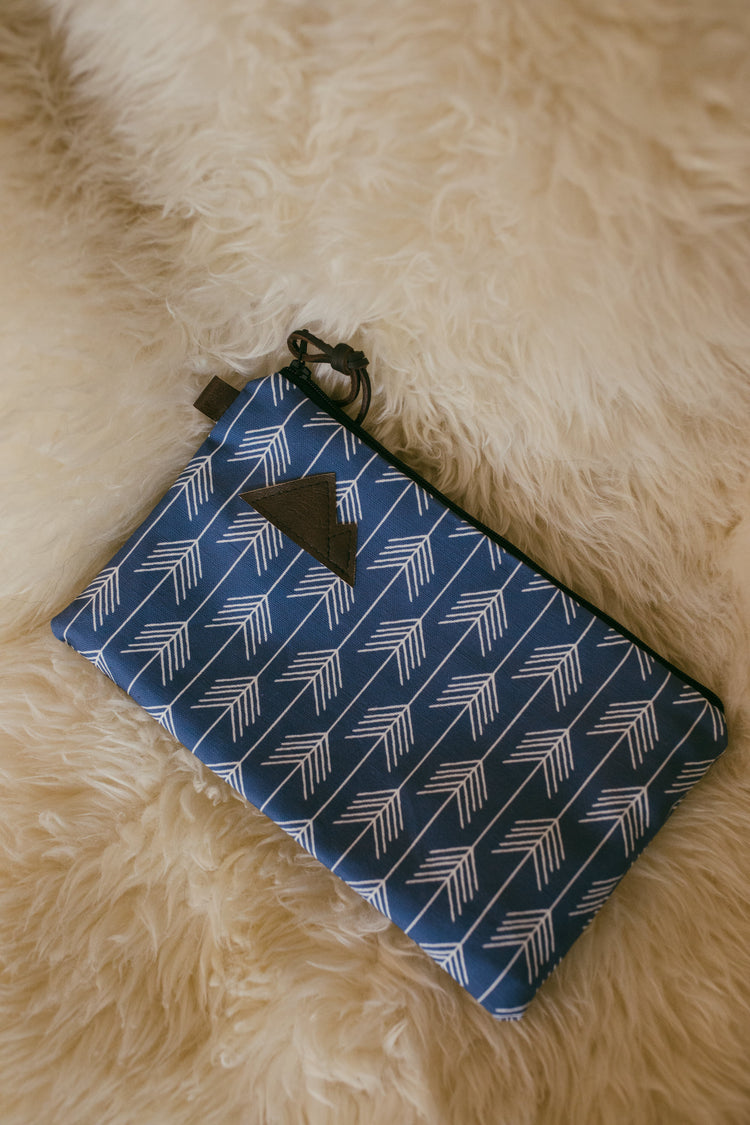 Guarantees
Ethically Sourced
Each ingredient is sourced directly from growers who support fair wages or fair trade.
Organic
All ingredients are either certified organic, or from farms who grow with organic practices as stewards of the land.
Eco-Friendly
All of our product packaging is recyclable, and our shipping materials are made out of recycled materials, reusable, and compostable.