Summer Blossom Body Oil Small Batch (limited run)
Regular price

Sale price

$ 50.00
This organic body oil exemplifies femininity and romance with the soft essence of magnolia and linden blossoms, so light and clean that it immediately soaks into the skin. The essential fatty acids with high antioxidant and anti inflammatory effects are excellent for repairing, soothing and softening even the driest, most irritated skin.
The Sourcing Story

Inspired by a recent sourcing trip through Walla Walla, while on an evening walk through trees and gardens bursting with blossoms permeating the air. I must've stopped a zillion times to breathe and marinate in the intoxicating scent of magnolia and linden blossoms. Admittedly, I plucked a few blossoms to linger in the scent for the road trip home. The intoxicating scent drove me home and straight to my lab to recreate and share this uplifting aroma in some way shape or form. I was able to use a few of my small farm to skin sourced ingredients (Green Coffee bean oil, Maracuja oil, rose and rose geranium oil. After some researching of small farms in Oregon and Hawaii, I scored the most incredible linden and magnolia essential oils to complete the body oil that is loaded with aromatherapy qualities and cellular healing and regenerative ingredients. Once applied, the scent of this body oil opens up beautifully emitting that soft essence of summer blossoms. Wait until your skin drinks it in and rewards you with supple softness!
The Ingredients

Green Coffee Bean oil (Organic and cold pressed) is merely a coffee bean that has not been roasted or processed, resulting in a grassy green scent and superior nutrients. This cold pressed oil is rich in essential fatty acids and vitamin E along with the antioxidant Chlorogenic acid which helps with the production of elastin and collagen thus improving the texture and tone of skin. Many spas use green coffee bean oil in massage treatments to improve the look and texture of cellulite.

Prickly Pear Oil derived from a cactus, which is one of the more sustainable practices for nutrient dense skin care ingredients. This cold pressed oil is an excellent source of vitamins A , E and K which help to improve the integrity of skin and repair inflamed and damaged skin cells. It is hydrating and calming to irritated skin and highly effective in regenerating new skin cells.

Maracuja Oil (Organic and cold pressed) is derived from the seeds of the passion fruit. Rich in essential fatty acids, antioxidants and vitamins A, C, this oil acts as a powerfully healing and regenerative ingredient to ease inflammation of skin cells exposed to extreme weather and sun exposure. This oil is wonderful at calming dry and irritated skin yet it soaks directly into the skin due to its high linoleic acid. Linoleic acid is an essential fatty acid that calms inflammation and helps prevent scarring.

The Natural scent is derived from organic, steam distilled essential oils. The proprietary blend was specially formulated for a mild scent and protective qualities to the skin: Magnolia blossom essential oil, Magnolia Leaf essential oil, Linden blossom essential oil, Jasmine essential oil, Rose damascena essential oil, rose geranium essential oil, tangerine and lemon essential oil, sea buckthorn oil.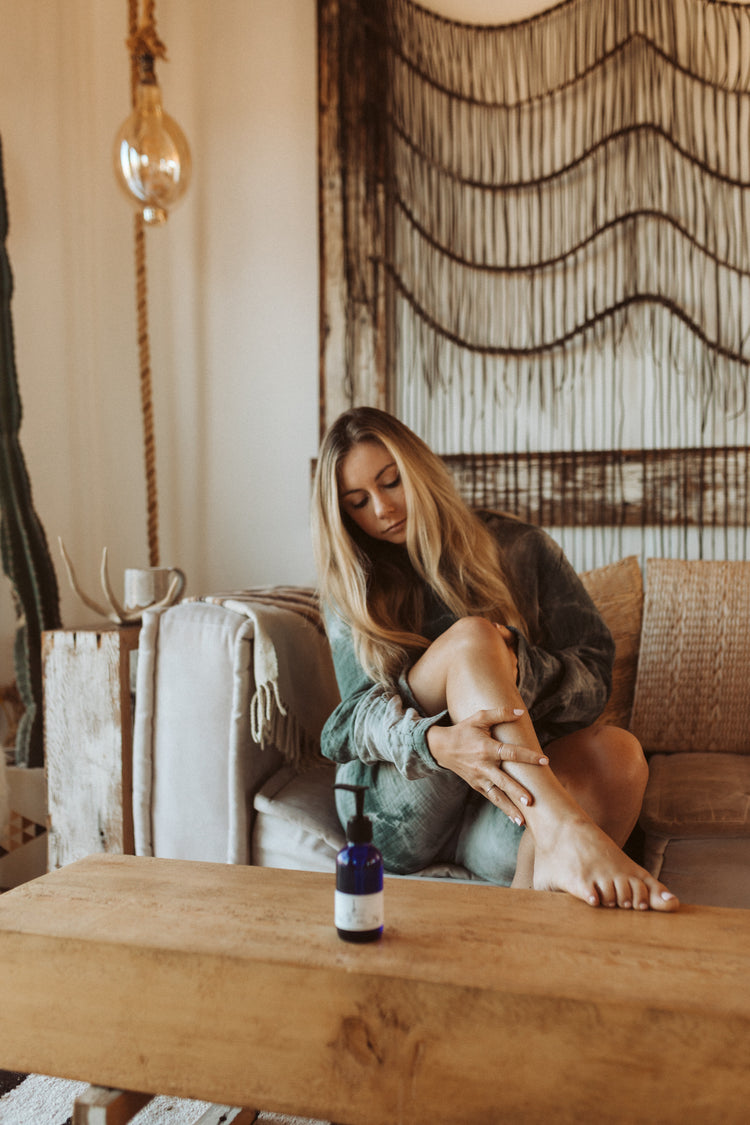 Guarantees
Ethically Sourced
Each ingredient is sourced directly from growers who support fair wages or fair trade.
Organic
All ingredients are either certified organic, or from farms who grow with organic practices as stewards of the land.
Eco-Friendly
All of our product packaging is recyclable, and our shipping materials are made out of recycled materials, reusable, and compostable.