Honey Love Mask
Regular price

Sale price

$ 64.00
Get ready to fall in love all over again! Bring back that underlying vibrant skin with this therapeutic grade, raw (from our VERY own glo bees) wildflower honey with propolis in tact and organic sun dried super berries and ground Plantain from Oregon. Pure raw honey, combined with organic sun dried super berries, dried herb: plantain, Camellia Seed Oil & Calendula Oil, Mulungu and Moringa make this mask the perfect antidote to irritated acneic or dry, sensitive skin. Raw honey is active with enzymes, B vitamins, alpha hydroxy acids and hyaluronic acid to promote gentle exfoliation, wound healing and cellular turnover. Propolis is a natural germ fighter that balances skin tone, heals wounds and decongests pores. The enzymatic effects of this mask will melt away dead skin layers, calm irritation, fight acne, and naturally unclog pores. This mask is loaded with anti-inflammatories, vitamins A, C & E and nourishing fatty acids that literally feed your skin and bring it back to life.
 Each  4 oz jar has approximately 20+ uses.
Additional Details

Inspiration for Honey Love: This Honey Mask was originally formulated after a trip to a small village in Mexico in 2018. I was able to source the raw honey directly from the beekeeper and his remote farm. the final product was so beautifully healing and received raving feedback from all of my customers. It was the trip to Mexico and this mask that inspired my husband and I to begin a journey of beekeeping to provide healing honey from our very own hives. After 2 years of raising bees, capturing a swarm (see my beekeeping highlight on IG)losing a hive to robbery, we endured and are celebrating a bountiful 2021 harvest...Thanks to our mentors, my husbands bee passion, humane practices and generosity, we were able to source enough raw honey for this fall batch.

Natural retinoic properties come from rose hips. This ingredient was harvested from the glō garden and dehydrated for optimal vitamin retention; and knowing the medicinal qualities of this brilliant fruit, I had to include it in the Honey Love Mask. The beta carotene, vitamin A and C in rose hips boost the cellular turnover and wound healing qualities of this mask. The dried fruit powders come from Oregon, California and of course South America (a future trip indeed is in the works!). Additionally, this Honey Mask formula includes an herbal boost with dried plantain to draw out impurities and offer deeper anti inflammatory compounds. Lastly the ever powerful Horsetail Extract is an effective ingredient for soft tissue healing at a deep level (think scars, acne, burns). Nettle was added for minerals and anti inflammatory qualities. White Tea Extract is added to uplevel the antioxidants for superior regeneration of healthy and vibrant skin cells. Super berry powders contribute to the increased vitamin counts of A, C and beta carotene for evening skin tone and strengthening elasticity of the skin for firmness.
Ingredients

Raw Honey, Rose hips (glo garden), pomegranate, red raspberry (Oregon), Herbs: Plantain (MT), Horsetail, Nettle, Camu Camu, Mulungu, White tea extract, Marula Oil, Camellia Oil, Neroli (Morocco)
Directions

Use this mask a few times per week and allow it to sit on your skin anywhere from 5 minutes to 1 hour. My favorite way to use it is to apply it in the morning to wake up the occasional tired skin or to decrease any puffiness. I often apply it just before jumping in the shower and perform honey tapping for a minute, then massage my skin as I rinse it off. When time allows, I linger in a hot bath while performing the honey tapping..Honey tapping is a great way to stimulate lymphatic flow and collagen/elasticity...See Instagram Highlights for how to use/tap @glo_luxury_oils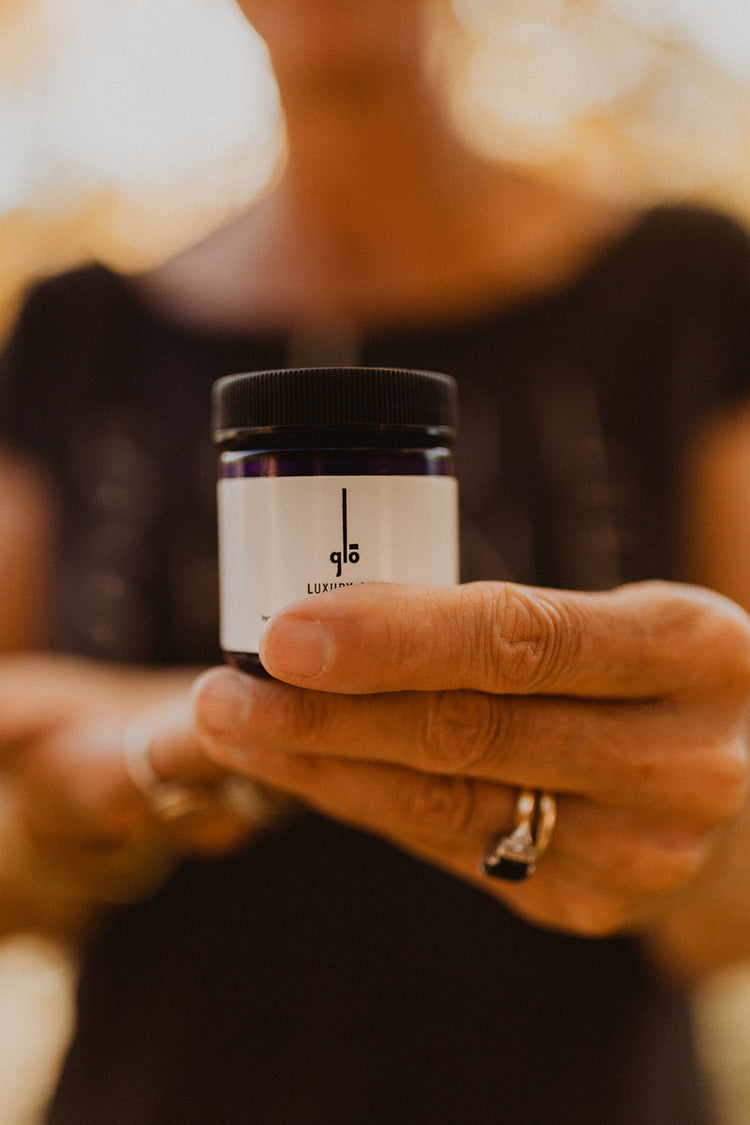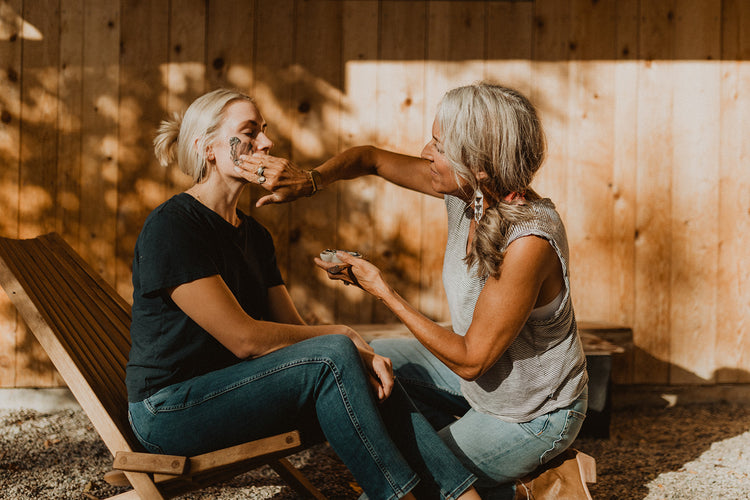 Guarantees
Ethically Sourced
Each ingredient is sourced directly from growers who support fair wages or fair trade.
Organic
All ingredients are either certified organic, or from farms who grow with organic practices as stewards of the land.
Eco-Friendly
All of our product packaging is recyclable, and our shipping materials are made out of recycled materials, reusable, and compostable.