Regenerative Treatment + Regenerative Hydrosol
Regular price

Sale price

$ 96.00
Our hydrosol spray and organic face oil work synergistically, providing the nutrients and vitamins your skin needs for a hydrated, glowing complexion.
Mist your face multiple times throughout the day with our rose and geranium Regenerative Hydrosol to help your skin stay hydrated and nourished.

If you've been curious about glō products or wish to gift a dreamy skin loving duo to someone, this is a great introduction set.
This set typically lasts 6 months if using each product once per day. Some people are getting it to last even longer!
Included in this set:
Description

Regenerative Treatment: Vitamins A & C naturally derived from Sea Buckthorn and Rose Damascene oil. A main ingredient, rose oil is renowned for its vitamin C rich healing qualities of eliminating scars, boosting collagen and soothing rosacea and eczema. Given that it takes 2000 rose petals to make less than 1 ml of rose oil, one can appreciate the value and healing properties of this precious oil. Essential oil of Carrot seed offers natural vitamin A and natural SPF protection. Sea Buckthorn oil boasts vitamin A, C and beta carotene for fighting free radical damage and rejuvenating tired skin. Essential oil of Geranium is beneficial to cellular growth and elasticity as well as pore tightening.

Regenerative Hydrosol: Regenerative Hydrosol is derived from the organic essential oils of rose (rose damascena) and geranium along with gem infused filtered water. The gems used to infuse the water are rose quartz, quartz, amethyst and black Tourmaline. Infusing water with precious gems from the earth energetically raises the vibration of the hydrosol. Gem infused waters assist in absorption of minerals and healing properties from the essential oils and filtered water. Rose and Geranium are known to boast antibacterial and cellular regenerative properties. Historically, rose and geranium have been used as aphrodisiacs and antidepressants and this combined with the gem infused water offers a wonderful boost to mood and energy when used throughout the day. Regenerative Hydrosol allows your skin to stay hydrated and glowing throughout the day as you can mist your face multiple times in a day. I have been known to keep a bottle on my office desk and powder room counter! It is considered an essential beauty tonic for most glo customers!
Ingredients

Regenerative Treatment: Organic, cold pressed Camelina oil, Organic Sunflower seed oil and the essential oils of Geranium, Rose, Sea Buckthorn, and carrot seed

Regenerative Hydrosol: Filtered water infused with gems, the organic essential oils of rose damascena and geranium.
Directions

Regenerative Treatment: Applied morning and night, this combination of oils is perfect for those seeking a soothing, light oil for a dewy complexion from healthy, toned and supple skin. Each 1 oz bottle typically lasts 3-6 months depending on usage.

Regenerative Hydrosol: Spray liberally before and after applying your favorite glo oil. As an energy boost or to freshen your skin, spray throughout the day to increase the cellular regenerative benefits and lift your mood. The smell is heavenly and fresh!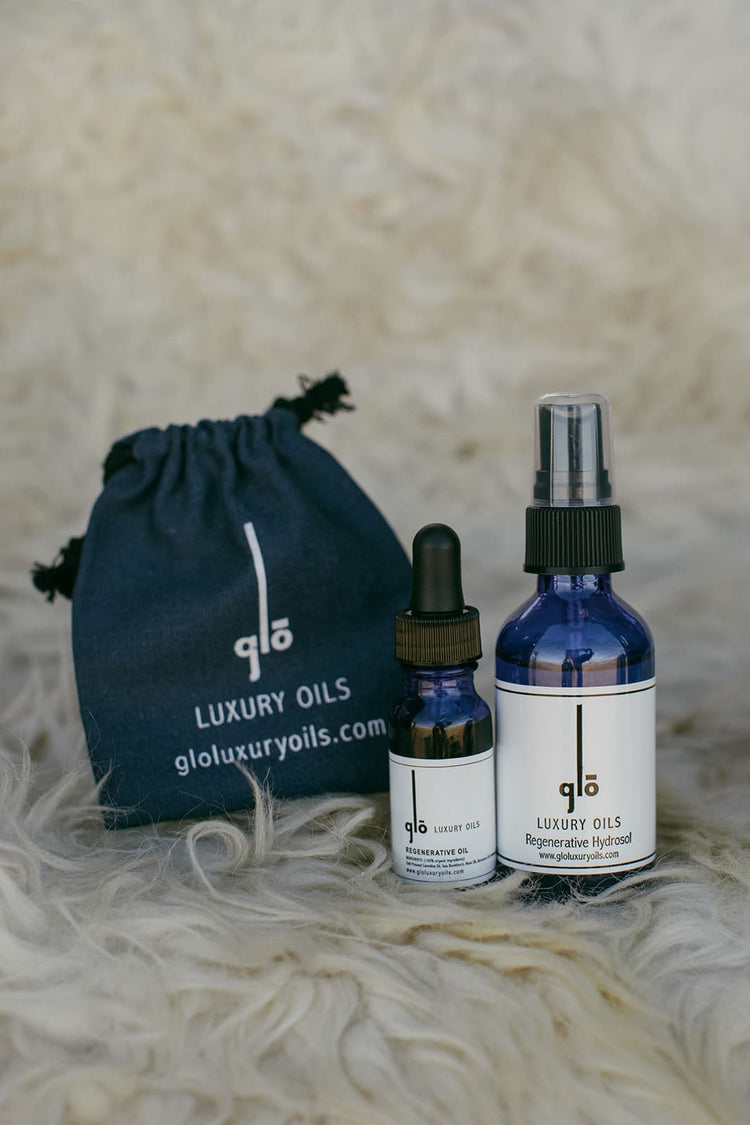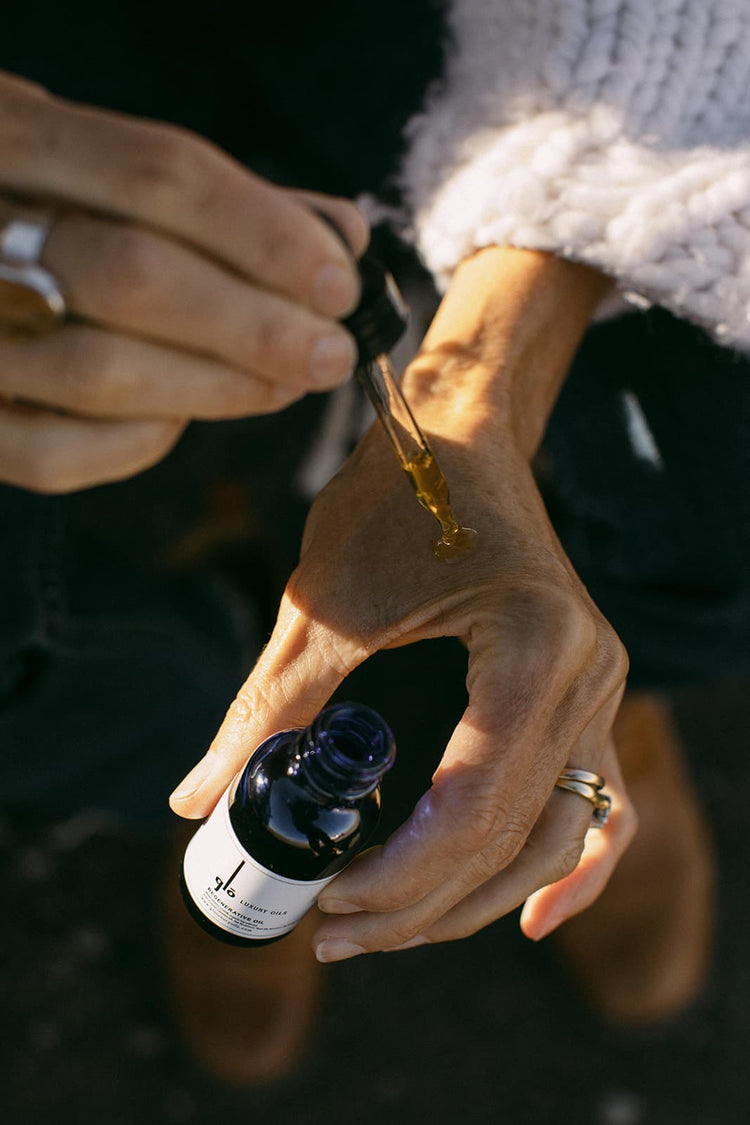 Guarantees
Ethically Sourced
Each ingredient is sourced directly from growers who support fair wages or fair trade.
Organic
All ingredients are either certified organic, or from farms who grow with organic practices as stewards of the land.
Eco-Friendly
All of our product packaging is recyclable, and our shipping materials are made out of recycled materials, reusable, and compostable.