Blemish Free Gift/Travel Set
Regular price

Sale price

$ 56.00
The perfect set to gift your favorite acne prone/sensitive skin friend or treat yourself to a travel size set to take to and from the office, gym, or getaways! Perhaps you want to discover this line without jumping in 100%? This set provides 1-2 months worth of product to give your skin a chance to experience the healing benefits of glō Acne Prone Skincare.
Skin Type: Acne prone, Sensitive, Oily or Dry flaky break out prone skin. Rashes, Scarring, Eczema.
What's in the Set: Acne Prevention Oil 1/2 oz size, Blemish Free Hydrosol 2 oz size 
Acne Prevention Oil
This oil is made from a combination of 10 therapeutic grade essential oils. Due to nut allergies we use sunflower seed oil as the carrier oil because it is hypoallergenic and closest to the natural skin oil known as sebum. While using oil on oily skin seems counter intuitive, this combination of oils is non clogging and contains astringent qualities to fight bacteria and maintain clear pores. Using this light antibacterial oil enables the body's oil glands to slow down production thus reducing oily skin symptoms and excessive shine. The essential oils used in this product have anti microbial/ bacterial and anti fungal properties combined to restore skin to a clear and supple state. The regenerative vitamin rich, plant nutrients help to prevent scarring or minimize the pock marks generated from new scars. There are also anti inflammatory qualities in these oils to soothe irritated skin. This oil is also an excellent choice for relieving rashes, insect bites and sun burned skin.
Applied morning and night, 3-5 drops of this blend of oils is perfect for those seeking to prevent or eliminate acne and calm irritated skin. It is non drying and non comedegenic, making it a wonderful choice for sensitive skin as well.

I N G R E D I E N T S :  Sunflower seed oil, Cranberry seed oil, Sea Buckthorn oil and essential oils of: lavender, Juniper, Neroli, Frankincense, Chamomile, Geranium, Melaleuca
Blemish Free Hydrosol/Toner:
This is a hydrosol of filtered water, aloe gel and essential oils designed to be used throughout the day. The therapeutic grade essential oils and aloe are combined for their anti microbial/bacterial/fungal, anti inflammatory and antiseptic qualities. These oils are also healing and calming to skin cells while supporting the regeneration of healthy new cells. This hydrosol is especially beneficial when used after workouts and as a precursor to the acne prone oil. Simply spray face, décolletage and nape of neck. Use throughout the day as a refreshing mist! Also use it to alleviate skin rashes, insect bites, eczema and sunburn or simply to set your make up!
I N G R E D I E N T S :  Lavender, Juniper, Roman Chamomile, Lemongrass, Helichrysum, Essential oil of Carrot Seed, Colloidal silver, 100% Aloe Water and gem infused filtered water (quartz, amethyst)
I N S T R U C T I O N S   F O R   U S E :  Spray liberally before and after applying your favorite glo oil. As an energy boost or to freshen your skin, spray throughout the day to increase the cellular regenerative benefits and lift your mood. Also great to mist your face post sweat to prevent breakouts! The smell is heavenly and fresh!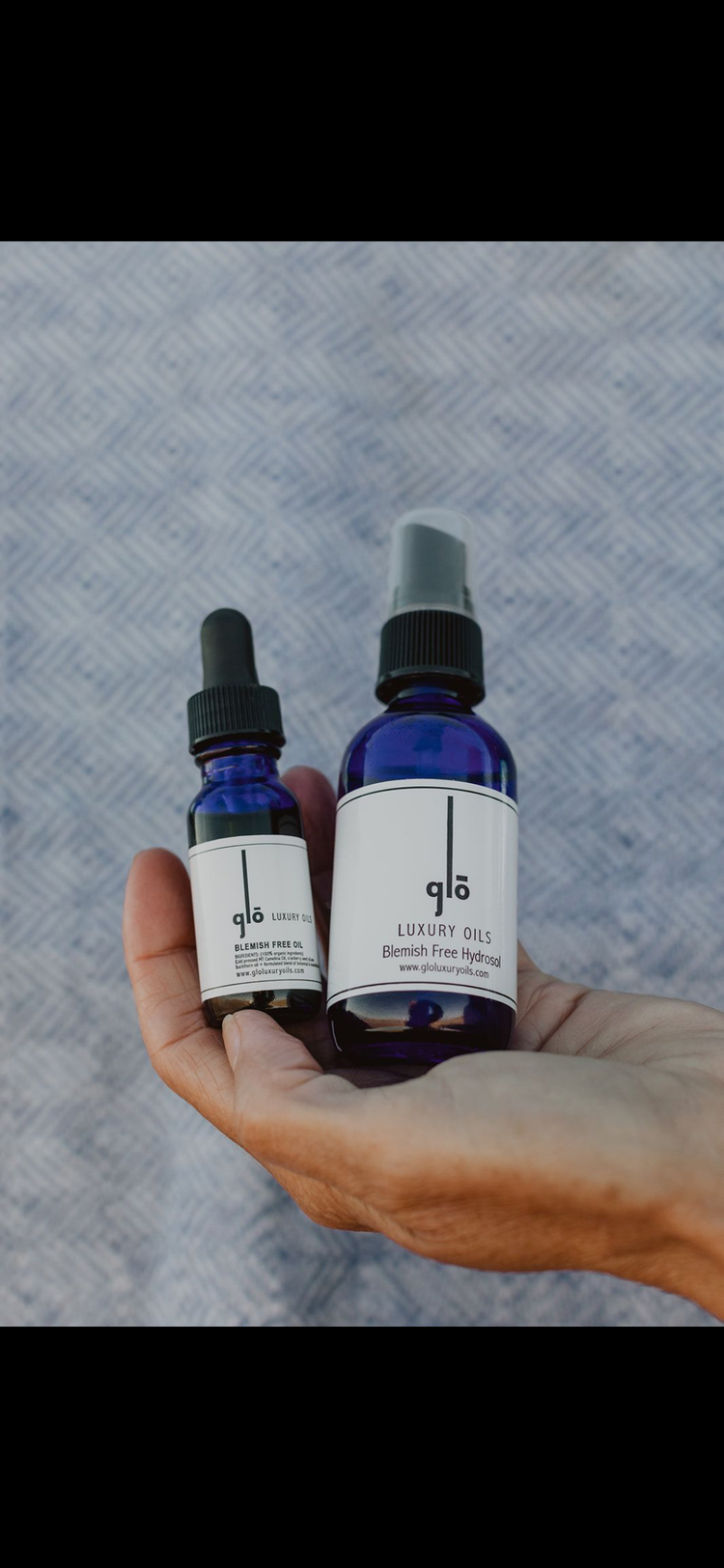 Guarantees
Ethically Sourced
Each ingredient is sourced directly from growers who support fair wages or fair trade.
Organic
All ingredients are either certified organic, or from farms who grow with organic practices as stewards of the land.
Eco-Friendly
All of our product packaging is recyclable, and our shipping materials are made out of recycled materials, reusable, and compostable.