Divine Feminine Body Oil
Regular price

Sale price

$ 60.00
The 2nd of our High Vibrational Skincare series, this luxurious body oil is not just a pretty scent; it is formulated with the intention of balancing our masculine and feminine energy qualities.
I specifically chose ingredients from powerful yet soft botanical oils along with 100% organic Marula and Maracuja oils specifically to tackle the driest most sensitive skin. Marula oil and Maracuja oil nourish and heal flaky skin without leaving an oily residue on the surface. The high Omega rich qualities in this oil absorbs directly into your skin, leaving it soft and calm. The scent will take you back to lilac blossoms and summer blooms that stop you in your tracks with their beauty. 
Each bottle also contains a few Amethyst gems to infuse the energetic qualities that enhance positivity, intuition, offer protection and a calm mind. The Amethyst as well as each bottle of Divine Feminine bathed under the full moon in my garden. Full moon bathing is known to boost the natural qualities and boost the vibration of the plant ingredients and gem stones.
Details

The masculine dominant ways in which our world seems to be driven these days could use a little softer, more intuitive, heart centered and feminine infusion. It is my hope that each time this oil is applied, you are reminded to tap into your heart and intuition as you go about your life; and to slow down and nourish your soul before tackling the never ending to do lists.
Ingredients

Organic Marula oil, Maracuja oil, sunflower seed oil, Essential oils of: Linden blossom, jasmine, ylang ylang, rose otto, rose geranium, orange blossom
Matra Directions

MANTRA to repeat as you apply this feminine body oil: Each bottle was blessed with the below mantra.

"May the powerful feminine energy be released from within me" As you apply the oil and repeat the mantra, feel free to remind yourself to tap into your feminine energy (calm, intuitive, compassionate, heart centered)... Throughout the day reapply a few drops to your wrists and neck to keep the beautiful essence alive!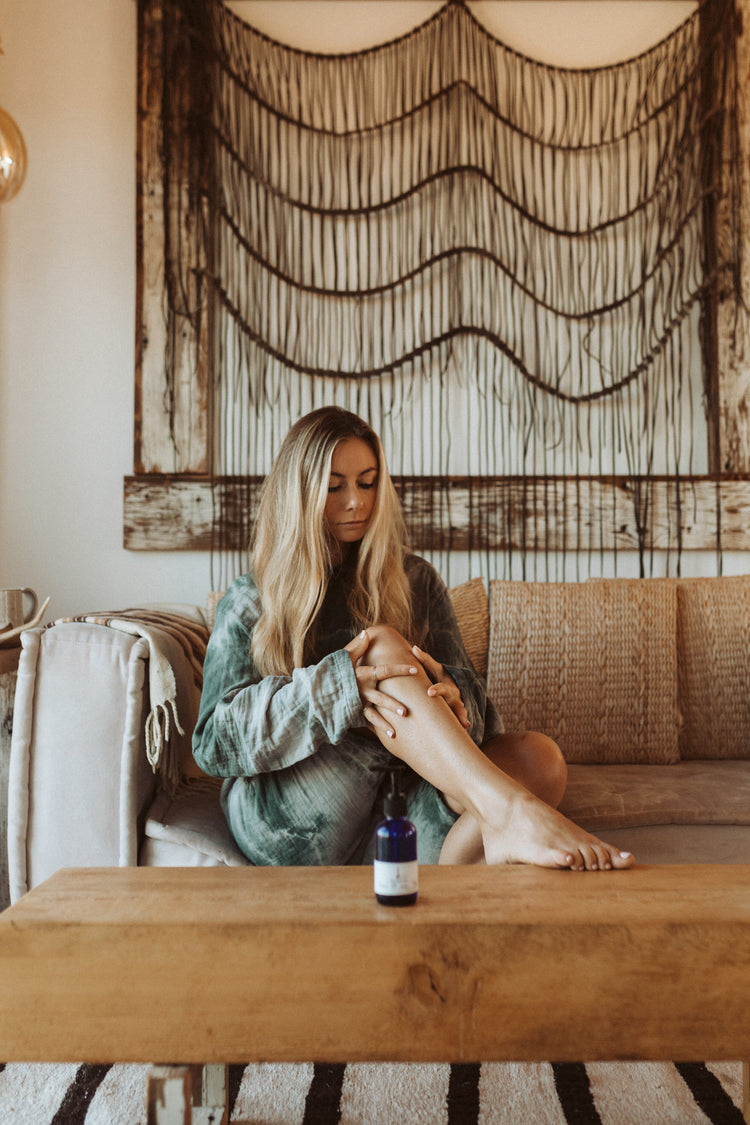 Guarantees
Ethically Sourced
Each ingredient is sourced directly from growers who support fair wages or fair trade.
Organic
All ingredients are either certified organic, or from farms who grow with organic practices as stewards of the land.
Eco-Friendly
All of our product packaging is recyclable, and our shipping materials are made out of recycled materials, reusable, and compostable.